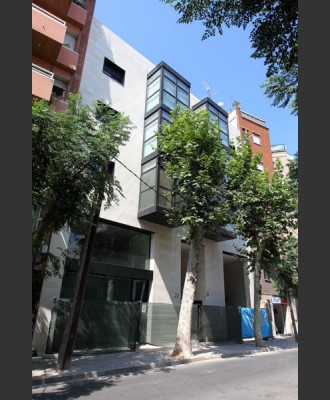 Malats 22
Construction of a new multi-family building located in the district of Sant Andreu (Barcelona). The building consists of a single volume, and it consists of two basement floors, ground floor and mezzanine (in which we find a shop and two duplexes), three type plants (which have a total of four homes per floor) and a ground cover which houses the air conditioning systems and solar panels. The total floor area of this building is 1944.20 m2. The construction process highlights digging foundations for subsequent screens based slurry walls, and bracing that had to be made as he advanced terrain recess.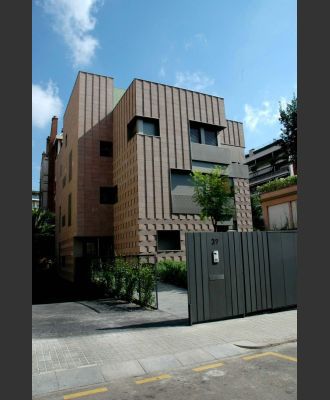 Raset, Barcelona
The work consisted of the construction of a multi-family building isolated, approx. It has an area of 663.60 m2 underground level garage, a ground floor with gardens for housing, community and private, two-storey apartment houses and also designed walkable area intended for community use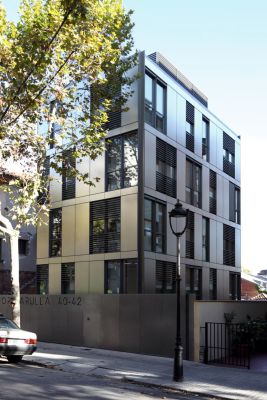 Carulla, Barcelona
Construction of building for offices, were conducted in stainless steel enclosure and glass, covering the 500 meters in this apartment-office. A precise metal structure contains different modules facade where the presence of solid panels, glass or brise-soleil alternatively an effect outside and inside always changing. Strips of glass and a skylight, located in the basement, this building up on the ground level, while creating interesting trips and inside lighting.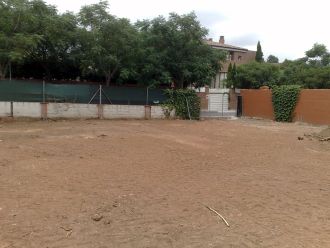 Colombia, Sant Cugat
Detached property as basic concrete structure with gable roof structure and wood paneling and tile finish Arabic. The facade will be of brick, with brick perimeter majority manual, and a smaller portion in the north and west elevations, in limestone. Within a traditional architectural line in the Sant Cugat del Valles. Three stories high, starting from basement parking, ground and first floor, and a second with mansard attics. The total floor area is about 500 m2. The project includes a spa and steam room, a gym, in the basement, and outdoor swimming pool in the garden area of the perimeter of the farm. A level has the special facilities to integrate a complete system of accumulation of rainwater and gray water reuse. With a deposit buried forty cubic meters capacity, and special pumping systems and water treatment. Also the energy supply of housing will draw almost exclusively, of a new geothermal system.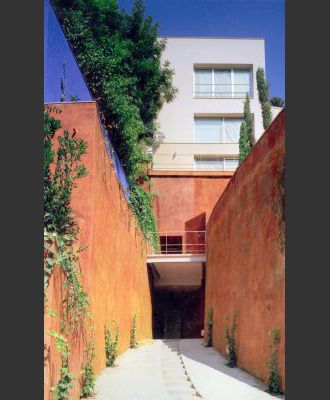 Escales Font del Mon, Vallvidrera
The works consisted of the construction of a detached house of approx. 255m2, consisting of basement and two floors. We performed earthwork, foundation, drainage network, the interior layout made ​​with brick walls, plaster. Wooden Windows, and aluminum exterior. Electrical installations, plumbing, heating.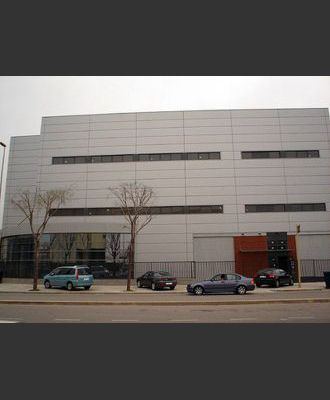 May 1, L'Hospitalet de Llobregat
The works consisted of the construction of a warehouse and offices of 4295m ² in area, consists of garage, ground floor, 1st and 2nd. Foundations were made based on in situ piling, pile caps and retaining walls. Precast concrete structure and precast slabs of concrete slabs with concrete layer and mesh compression. Facades sided aluminum panels with polyurethane insulation, aluminum anodized. Troweled colored concrete pavements. Two loading docks provided with metal doors for truck entrance. Aluminum curtain wall and glass for future polygonal corner offices. Covers of galvanized steel sandwich panel roof and stepped on to, installation of machinery.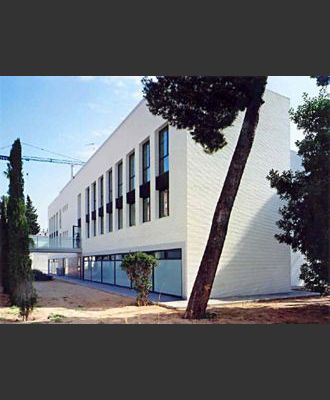 Joan de Alos, Barcelona
College occupies approximately 2.000m2 constructed, consisting of two basement floors which houses the gym, locker rooms and a hall, ground floor and two type plants. The school has large areas where the quality of finishes is critical to ensure its durability and aesthetics.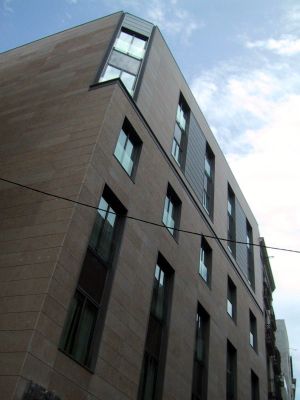 Hospital , Barcelona.
The work consisted of the construction of a building for 3 * hotel of 70 rooms. The building consists of basement -2 used as a warehouse and machinery, in basement -1 is where the kitchen, breakfast room and locker room Hotel staff. 5 Floors type with fourteen rooms on each floor and finally the plant technical volume.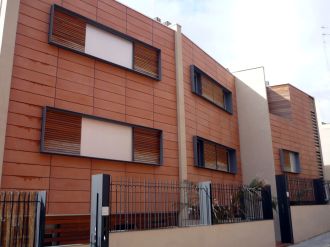 Putget, Barcelona
Building an area of ​​1,400 m2, consisting of houses for residential buildings, one building with two apartments and the rest with one. Downstairs is placed on dining, kitchen and living room. In the 1st floor will have two bedrooms and a bathroom on the second floor and 1 bedroom with bathroom and terrace. From the street Putget be accessed with vehicle rolled into the parking lot of individual homes, connected to the ground floor by a staircase.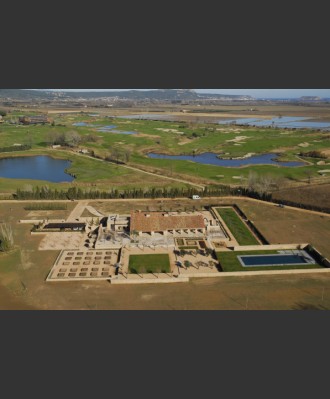 Empordà, Girona
The works consisted of the construction of a high-level home, located on a farm of 10 hectares totally flat., In the municipality of Fontanilles in L'Empordà, Girona. The ground floor of 373m3 and a 48m2 loft, a raised level of natural. The house has 712 m2 basement of the house around a series of garden plots, ending in a large area of ​​grassland, totaling an area of ​​about 30,000, - m2, go down to the dimension naturally limited by walls of stone. In this area are located a pool of 25m2 and an artificial lake of 4,000 m3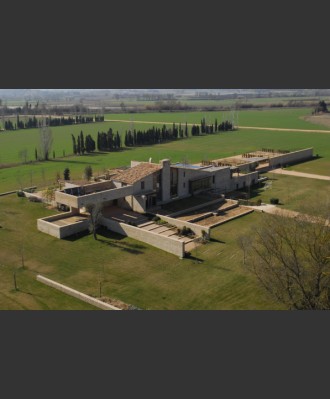 2 Empordà, Girona
The works consisted of the construction of a high-level home, located on a farm of 10 hectares totally flat., In the municipality of Fontanilles in L'Ampurdan, Girona. The house has a basement of 685 m2. The ground floor of 360 m2 and 63 m2 of mezzanine, a raised 1.20 m above the natural level around the house, a number of garden plots, ending in a large area of ​​grassland, totaling about 20,000, - m2, descend to the coordinate natural, bounded by a rustic brick walls. In this area lies an infinity pool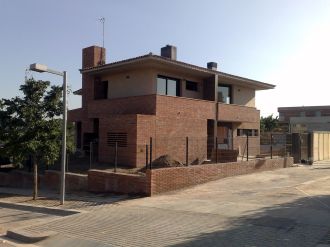 Or, Sant Cugat del Valles
Construction of a house about 710 m2, underground parking consists of about 240.00 m2, which is accessed via a ramp that connects the house to the street Or. Housing consists of two floors, ground floor and first floor is distributed in a lobby access from the street with stairs to the first floor, a guest bathroom, a kitchen with pantry and laundry area and tended, a guest room with bathroom and a living room that opens onto the terrace and garden, the first floor are three bedrooms organized in articulated through a play space, a home office linked to a small terrace and Suite room area. The property is surrounded by outdoor area 480.00 m2 of which approximately 300,00 m2 are gardens on two levels and where the pool. The most interesting detail, can be a high brick chimney, which are associated with long terraces sills of the same material.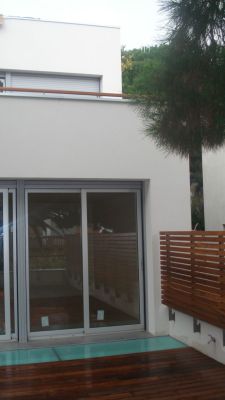 Arquer Valletta, Barcelona
Rehabilitation of single-family, three-story building in which are staggered from the street, the functional program is distributed in this family house of 180 m2. A succession of terraces with wooden flooring, formally characterizes this property, where light is present through a longitudinal skylight in the living room on the ground floor, in the locker room and second floor in an English garden located in the background of the parcel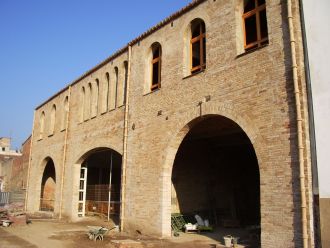 Sant Feliu, Down and Cross Ship
Down and Cross Ship - 1795 m2 - Rehabilitation The purpose is rehabilitation of the existing building called transept and the building of a new, partially retaining the facades of the building called Nave Baja. Les overall dimensions of the building are transept: 27,70 x12, 60x12 m in height. Ship Low: 30,00 x15, 20x13, 50 m height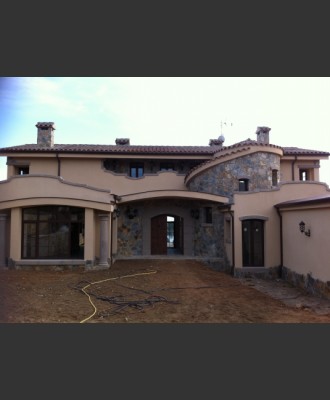 Urb supermarese, Sant Andreu de Llavaneres, BCN
Construction of detached house occupying an area of ​​500.84 m2 distributed basement, ground and first floors. The ground floor contains the lobby spaces, kitchen and dining area and similarly interconnected but at different levels, the living area. The first floor consists of two cores bedroom, geometrically equal and distributed in a hall which has a terrace on the entry line. We stress singular element provided with a ladder close helical zenith.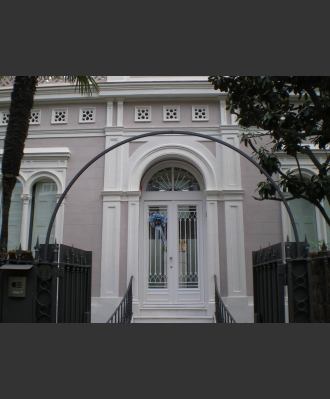 Passatge Permanyer - Barcelona
Comprehensive Rehabilitation modernist detached house of 540 m2 consisting of the structural reinforcement of floors, replacement of plant, complete matching interior, replacement and installation of stair lift. Main façade restoration, posterior and interior courtyards, marble staircase restoration and access to housing forged. Landscaped outdoor and fitness.